Women, do you ever wish that your husband were more of a leader in your marriage … or more involved with the family? If so, you are not alone. Women often say that they long for their husbands to become stronger leaders; some wives even say that they feel desperate for their husbands to show greater leadership in their homes. If you would like to encourage the leader in your husband, here are several things that you can do:
1. Recognize that you probably have relational abilities that your husband does not have in the same way that you do. That's okay; he has abilities that you don't have. Look for the unique strengths that he does have. Appreciate the ways in which he contributes to the family according to God's design for him. His gifts are different from yours, but that it is good because that means that your family is doubly blessed!
2. Continue to graciously invite your husband to be involved with the family, but refuse to be resentful if he declines. Look for ways of connecting that work well for your husband, and gently build on those. Let go of the ways that aren't comfortable for him right now.
3. One of the greatest blessings you can give your children is to teach them to honor their father. You can do this both by instruction and by modeling.  "Translate" your husband's hard work (and other commendable things) as active love to them. Help them to see and to appreciate his ways of showing love. It is possible for children to be more harmed by mothers who model dishonor than by fathers who work long hours.
4. Often, when women say they want their husbands to be leaders, they mean that they want their husbands to do certain "spiritual" things. But wives should feel free to let go of their expectations and their sense of need in this area. When God says that the husband is "the head" in a marriage, this means that the husband is responsible to God for the well-being of his wife. This is an accountability issue between the man and God; it is not, as women often think, a particular list of chores for the man, such as leading family devotions or praying each night with his wife. Those are great things, of course; but that is not the core issue of headship.
5. A woman strengthens her husband's leadership by following him. She doesn't make him a leader by leading him. As wives, our assignment is to cooperate with our husbands more than to correct them.
6. A woman is most powerful in advancing God's work in her husband when she prays for her husband and serves him according to his needs. As wives, we build a platform when we trust and obey God; upon that platform, God then builds marriages and men.
7. We were designed to invite our husbands, using the fragrance of "purity and reverence," into a deeper relationship with God; we were not created to push them into it. The goal of a godly wife is not to change her husband; it is to make God attractive to him. She does this by letting the Spirit shape her into a woman who is peaceful, honoring, welcoming, and supportive. It is often a woman's warm acceptance of her husband and her unconditional respect for him that most compellingly draws him to her God.
God has encouragement for you! He wants you to trust Him, to be content with His timing and His plan, and to be satisfied with His goodness and faithfulness to you. Your quiet, steady trust in God and your respectful building-up of your husband will create a platform upon which your husband can grow. When we take our shaping hands off our husbands and instead put uplifting hands and prayers under them, then God is able to be the Shaper. He will shape our spirits, our marriages, and our joy.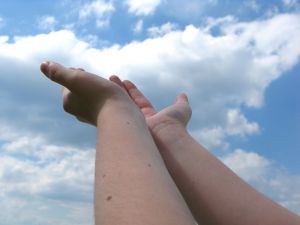 Please like and share! :)